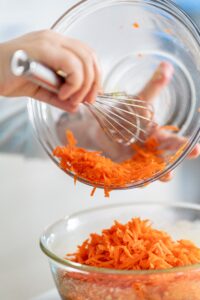 This simple salad  is naturally low in sodium and high in potassium which is the exact balance of minerals needed in any diet to help lower blood pressure. The perfect sodium-potassium ratio is found in fruits and vegetables. This is why these foods must build the foundation of an effective blood pressure lowering diet.
Ingredients
1 cup almonds, blanched, shredded
2 cups beets, raw, peeled and grated
3 cups carrots shredded
Directions
Mix all together. Toss with your favorite salad dressing.
To your best health,
Dr Kathy
Recipe adapted from the book Ten Talents by Rosalie Hurd, BS.