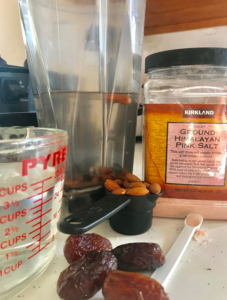 Anyone 'four' milk?
Why did I say anyone 'four' milk? It wasn't a typo. Our family recipe for almond milk is super easy and tastes amazing. You'll never forget the recipe because it has one simple recurring number.
Just four simple ingredients.
Blend all ingredients for 2 minutes on high speed. If you prefer a silky milk with absolutely no texture then go ahead and strain through a fine strainer or cheese cloth.  I don't strain mine. We drink the whole nut, fiber and all. It tastes just fine.
Makes four cups of milk and you can store in the back of the refrigerator for up to one week. This nut milk can be a substitute in any recipe that calls for cow's milk.
Who needs the extra fat, cholesterol, pus and allergy promoting agents found in cow's milk? Not me.   Our kids certainly deserve better.
Try this milk and let me know what you think. It is a better choice 'four' you and your family 😉
Till next time….  Be well
Dr Kathy