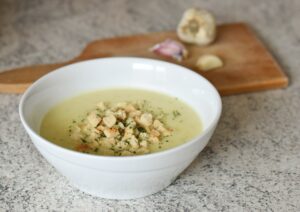 This is a wonderfully satisfying soup. Chowder soups usually have a milk base.  When you're plant based you can easily make any recipe by using a plant milk instead of using milk from cows.
Ingredients:
1 cup onion, chopped
2 Tbs water ( for sautéing)
2 stalks celery, chopped
2 carrots, chopped
1 cup parsley, chopped
2 cups sweet corn
2 cups water
2 cups plant based milk ( I use my home made cashew milk)
1 potato chopped
3 clove garlic, crushed
1/4 teaspoon nutmeg
salt and pepper to taste
Directions:
Sauté onion and garlic in 2 tablespoons water, over medium – high heat until soft. (Note: Sautéing in water is more healthful than oil and tastes the same.) Add 2 cups water, chopped celery and carrots. Cook 10 minutes. Add sweet corn, plant milk, chopped potato, parsley and spices. Continue cooking for another 10 minutes. Sever hot.
Enjoy this whole food, hearty soup.
Dr. Kathy