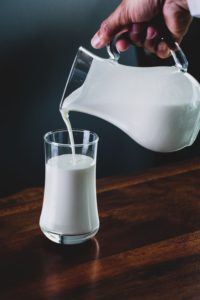 All the talk right now is about corona virus and understandably so. Our lives have been changed forever because of this pandemic. As we continue to focus on the best ways to fuel our bodies it is going to be important to figure out ways to get dairy out of the diet. Dairy has been linked to increased mucus production in the respiratory tract and can be a very troublesome food allergen leading to lung disease. With COVID -19 preferentially attacking the lungs it's not the best time to have foods that weaken our lung function . The wonderful news is that you can skip the dairy (cow's milk, cheese, yogurt, butter, ice cream) and still enjoy many of your favorite foods. Trust me, there is a yummy, healthier alternative for all the animal based foods that make us so sick.
The variety of milks that can be made from plants is endless. On the blog, I have shared recipes for almond milk and one for walnut rice milk. This one has to be by far the most decadent. Cashews make a very rich, creamy and absolutely delicious milk.
Ingredients:
1 cup cashews (raw unsalted)
4 dates pitted (add less or more to suit taste)
½ tsp salt
4 cups water
Directions:
Blend all ingredients in a high-speed blender for one minute and serve hot or cold.
This milk does not need to be strained as the cashew nut is soft and easy to blend up into a smooth milk.  You can substitute in any recipe that calls for milk and nobody will know the difference.
Be safe during these trying times,
Dr. Kathy
References
1.Milk Other Than Breast Milk and the Development of Asthma in Children 3 Years of Age. A Birth Cohort Study (2006–2011); Nutrients. 2018 Nov; 10(11): 1798.
2.Integrative Medicine for Respiratory Conditions: Asthma and COPD;
Med Clin North Am. 2017 Sep; 101(5): 925–941.
Gloria Y. Yeh
, MD, MPH
 and 
Randy Horwitz
, MD, PhD
3. Does milk increase mucus production? Med Hypotheses. 2010 Apr;74(4):732-4.