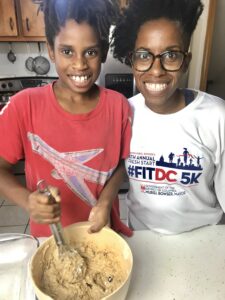 Never throw away a banana again! Whenever your bananas are looking super ripe and the skin has tons of speckles or even turned all brown that's the perfect time to turn them into amazing banana bread.  My favorite part is that amazing banana bread doesn't need any eggs. I use applesauce to replace the eggs and still get a perfectly moist bread every time.
Wet ingredients
3 very ripe bananas
2 tablespoons plant milk
1/4 cup apple sauce
1/4 cup oil
1 cup brown sugar or honey
Dry Ingredients
2 cups whole wheat pastry flour
2 teaspoons baking powder
1 cup raisins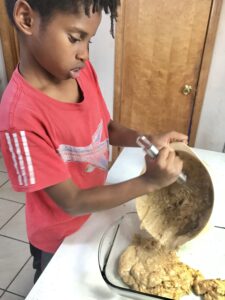 Mix wet ingredients then add dry ingredients. Mix all well with a whisk. Coat a baking pan with oil spray then pour in the batter. a 9×13 inch pan works well. To get every bit of batter out I use a spatula. I like to have kid size versions so my boys enjoy the time in the kitchen even more.
Bake at 350 degrees F for 35- 40 minutes. Allow to cool before cutting.
A few pointers- When your bananas are too ripe for you to enjoy them save them  in the refrigerator until you are ready to make this recipe.  The plant milk is just to help mash the bananas. You don't need a lot. Any plant milk will work, I use soy or almond.
You're gonna love this bread.