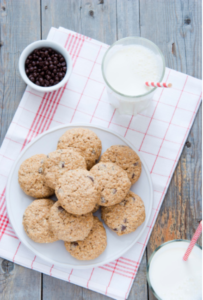 Tis the season for cookies and here's one of our favorites.
Ingredients:
1 tbsp olive oil
1/3 cup applesauce
1/2 cup honey
1 1/2 tsp Ener-G egg replacer powder (dissolved in 2 tbsp. water)
1/2 cup non-dairy milk
1 cup spelt or unbeached white flour
1/4 tsp salt
1 tsp baking powder
1 tsp cinnamon
1/2 tsp nutmeg or cardamon
1 1/2 cups quick oats
1 cup raisins
1/4 cup coconut, unsweetened shredded
Directions:
Mix together wet ingredients.
Add dry ingredients to wet mixture, then mix all together well.
Drop by tablespoons onto a lightly oil-sprayed cookie sheet
Bake at 375 degrees F for 10 minutes or until golden brown.
Makes 15 cookies
Enjoy!
( Recipe adapted from The Optimal Diet by Darlene Blaney, MSc, NCP and Hans Diehl, DrHSc, MPH, FACN)