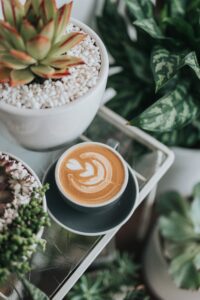 On these cold winter days, a cup of caffe mocha really hits the spot!  It's a real treat to get cozy and sip this warm delight. Our vegan version is amazing with no cows or coffee beans involved.
Ingredients:
4 cups unsweetened almond milk (or any nut milk)
1 Tbs carob powder (replaces chocolate in any recipe)
1 Tbs Kaffree Roma (this roasted grain beverage replaces coffee in any recipe)
4 Tbs maple syrup
1 tsp vanilla
Directions:
Mix all ingredients in a saucepan and heat on stove.
The kids' eyes pop with glee whenever I add vegan marshmallows on top 🙂
With a few months left of winter this can be your warm cup of sweet goodness that's good for you.
Here's to you and your health,
Dr. Kathy