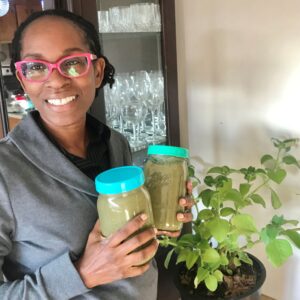 This is my my standard green smoothie. Green smoothies are a great way to flood your body with healing foods. This one is heavy on the greens for more fighting power. When I'm making it for the kids I swap one cup of greens for an extra cup of berries. They can't resist that.
Ingredients
4 cups kale
2 cups frozen blueberries
1 apple
1 pear
1 Tbs flaxseed
4 pitted dates (if desired for sweetener, goes well with the kids)
4 cups almond milk
Blend all in high speed blender for 2 minutes.
Always tear the leaf off the kale stalk because the stalk will give a bitter taste.  You can change up the green leafy veggie and fruits. For example, I might swap out the kale for spinach or change the blueberries to strawberries. The liquid is also flexible. You can use soymilk, coconut water or just plain water. Adjust the consistency by adding more or less liquid. Give it a try.
To your healthier family,
Dr Kathy