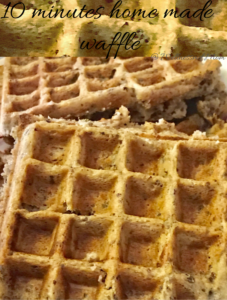 Sunday has been renamed "waffleday" in our home! We all look forward to it with great enthusiasm. Some a little more than others! I found a great recipe that allows me to make a big batch with wholesome ingredients and then store in the refrigerator till next "waffleday". I like this recipe a lot because it is all plant based and combines different grains and nuts. It is oil free, egg free and sugar free. The best part is it tastes so good and keeps us all full practically the whole day because it is so high in fiber. It's important to eat high fiber foods which keep you full because it helps maintain stable blood sugar levels and decreases the need for snacking.
Okay without further delay…
Waffle mix
Obtained from the book Seven secrets by Neva & Jim Brackett
8 c quick oatmeal
2 c cornmeal or millet (or 1 of each)
2 c cashew pieces
2 c dark flaxseed
1 cup cornstarch
4 tsp salt
1 c raisins
Mix together in a large mixing bowl and pour into a plastic storage bag. Store in freezer or refrigerator. After several uses you should know how much to make for your family.
Using this Mix for 2 persons
Combine 2 cups water with 1 3/4 cups of waffle mix in blender. Blends till smooth – at least 1 minute. Spray waffle iron with oil to avoid sticking. Pour blended mix and bake till done.