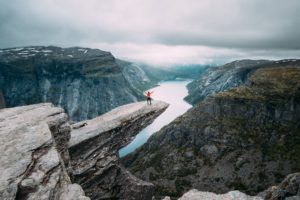 Fresh air is extremely important for great health. It is just as important as nutritious food, adequate exercise, refreshing sleep and stress management. Fresh air is actually the most important component to life. We can live a few weeks without food, a few days without water, but only a few minutes without air. That puts it in great perspective.
It all goes back to the basic cell. Every cell in our body needs oxygen to carry out its functions. Every single cell in our body craves oxygen which we get from the air we breathe. Just getting fresh air can sometimes do more to improve our health than medicines or food.
The best quality air has more negatively charged ions and less pollutants. Negatively charged ions help to clean the air and remove toxins. We find this type of air nearby moving bodies of water like the ocean, the beach, a river and waterfalls. The quality of the air is also the best after a severe thunderstorm. That's a perfect time to go outside and take a nice long stroll.
Poor quality air has high levels of pollution. Some obvious pollutants are cigarette smoke and car exhaust. You never want to have someone smoke inside your house. Likewise, you want to avoid living in densely populated cities. There are some other pollutants however, that invade our space everyday and we don't recognize them.  Things like popular household cleaners, insects repellents and bug killers can be toxic to our immediate environment. Modern living really damages our air quality. Things that seem so basic to everyday life like florescent lights, candles, air fresheners, gas stoves all have been found to pollute our home air. Many of these release fumes which over time become toxic for health.
The US Environmental Protection Agency has determined that the air quality indoors is 100 times worse than the air quality outside. Yet most of us spend 90% of our time indoors. Lack of fresh air leads to many symptoms like fatigue, yawning, poor concentration, headache, chest pain and anxiety.
No body wants to deal with all that, so it pays to get fresh air on a regular basis every day. So how can we freshen up our air and boost our oxygen intake? Here are a few things we can consider:
1. Maintain a good posture – slouching decreases the lung space and limits the amount of oxygen that we take in.
2. Breathe deeply – deep breathing helps to increase oxygen circulation to every single cell and is one of the quickest ways to start to feel better.
3. Allow air to circulate  – Its ideal to have the windows open for air to circulate. In the winter just a little crack will do and in the warmer months open them all the way.
4. Go outside and exercise – It is better to exercise in the fresh air as much as possible. You get the benefit of fresh air, sunshine and exercise all in one!
5. Have house plants- plants like aloe , orchids and palms are excellent plants to have in the house. They  boost oxygen levels and decrease floating toxins.
When trying to stay healthy and fight disease we cant forget about fresh air.  It maybe that missing link from sickness to health.
Here's to your best health
Dr. Kathy
References
1. Environ Int. 2021 Feb; 147: 105954.
Air pollution, physical activity and health: A mapping review of the evidence.
2. Eur Respir J. 2020 Jun; 55(6): 1902056.
Personal strategies to minimize effects of air pollution on respiratory health: advice for providers, patients and the public