I have tons of yummy plant-based recipes to share with you but given that we are all in preparation mode during the spread of COVID -19, I will share some more useful recipes for the immediate situation. The  World Health Organization has classified the COVID-19 infection as a pandemic which means this infection is prevalent all throughout the world.
It's likely that you and I will come in contact with this virus. If and when you do come face to face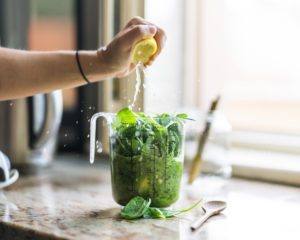 with this tiny but mighty terrorist you want to be ready. There is no vaccine or medication you can take to treat this and so we have to rely on standard precautions and the power of our immune systems to make it through.
Here are some simple recipes that you want to have on hand if you or your loved ones should become infected.
Saltwater Gargle
Ingredients:
1 8 oz glass of warm water
1  teaspoon of sea salt
Directions:
Boil water then add salt and stir. Wait for it to cool. Gargle within the first few minutes of the signs of a sore or scratchy throat. Do this for five minutes at least three times a day. Spit out water after gargling. If you are in close contact with someone battling a virus you can also do this regimen on yourself as a precautionary measure.
One of the first lessons we were taught in medical school microbiology is that viruses don't like warm environments and they don't like salty solutions. So warm saline (salty water) is a real bummer for them. This environment decreases their pathogenicity (strength) and makes it harder for them to keep traveling down into your respiratory system.
Natural Lung Decongestant and Cough Suppressant
Ingredients:
2 bulbs garlic
1 whole white onions
4 inches of ginger
1 cup of honey
Juice of 6 lemons
1/2 teaspoon oregano oil
1 teaspoon peppermint oil
1/2 teaspoon cayenne
Directions:
Combine all in blender for about one minute. Place in airtight glass container and store in refrigerator. Take 1 teaspoon three times a day as needed.
All the ingredients in this recipe assist your body in its fight to conquer the virus. They either enhance the function of your immune system or are directly antiviral in nature. It will be an excellent mixture to help soothe the symptoms of a viral infection that leads to nasal congestion and cough.
Carrot, Apple, Beet Juice
Ingredients:
8 carrots (organic)
8 red apples
2 large beets
2 stalks of celery
1 lemon
1 inch ginger
Directions:
Wash all produce well. Peel carrots and lemon. Put all produce through a juicer. Drink 8 oz of juice to replace a meal.
When you or your loved one get infected with the virus your body needs to concentrate on rest and healing. It needs a break from dealing with the complicated digestive process at this time.  Stop eating  your regular diet and switch to a liquid diet for a day or two. This  carrot, apple, beet juice blend can be used to replace regular meals for a day or two. It will provide a burst of vitamins and antioxidants that are essential during this period of illness.
These recipes are not considered cures for COVID-19 or any other viral illness but they may help lessen the blow (intensity) and decrease the amount of time (duration) you find yourself down and out battling the bug.
Please remember: If you develop emergency warning signs for COVID-19 get medical attention immediately. Emergency warning signs include*:
Difficulty breathing or shortness of breath
Persistent pain or pressure in the chest
Confusion or inability to arouse
Bluish lips or face
*This list is not all inclusive. Please consult your medical provider for any other symptoms that are severe or concerning.
Here's to a speedy recovery for us all,
Dr. Kathy
Disclaimer:
None of the information in this blog or on this website is intended to replace the advice of your regular medical provider. Please consult your personal provider for all medically related questions.
References:
https://www.cdc.gov/coronavirus/2019-ncov/index.html
"A Pilot, Open labelled, Randomised Controlled Trial of H
ypertonic Saline

Nasal Irrigation and Gargling for the Common Cold". (Sci Rep. 2019 Jan 31;9(1):1015. doi: 10.1038/s41598-018-37703-3)