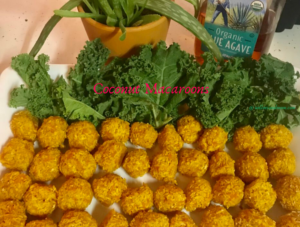 Here's a nice dessert to take to that holiday party this season. These coconut macaroons are definitely a hit. Once you place them on the serving table they'll be gone literally in seconds. This sweet treat has no processed sugar, no trans fats and no artificial additives. They are high in fiber, and are even loaded with vitamin A from the carrots (but nobody knows they have carrots unless you tell them)
So here's the recipe:
2 cups unsweetened shredded coconut
1 cup grated carrots
1/2 cup whole wheat flour
1/4 cup water
1/2 cup agave (can also use honey, just avoid processed granulated sugars)
2 tablespoons oil
1 teaspoon vanilla extract
1/2 teaspoon salt
Directions:
Mix all ingredients together then let stand for 10 minutes. This part is important because if you try to form little balls right away they will fall apart. After 10 minutes it will become easier to form the little macaroon balls and they will keep their shape.  Shape into small round balls ( maybe 1/2 inch wide) then place on nonstick cookie sheet. Bake at 350°F for 20 minutes.
Let cool and enjoy.
This recipe makes about 24 macaroons. I usually double or quadruple the recipe with no problems.
These will be a sweet treat for the holidays!
Here's to the best of health for you and your family
Dr. Kathy.