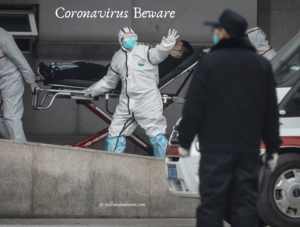 China has been turned upside down by the 2019 Novel Coronavirus (2019-nCoV). This microscopic organism has spread rapidly from person to person leading to the illness of thousands and death for over 250 individuals. The first case was detected in Wuhan, China on December 31st 2019 and it has since become a global issue as the virus has spread to other countries and was confirmed in the USA on January 30, 2020. So far there are 7 confirmed cases in the US and anxieties are rising as it will likely continue to spread.
It is important to understand how these viruses work and what we are dealing with to better prepare ourselves. Much is still not known about how this particular virus is spread but based on what we know about the coronavirus family it is most likely close person to person contact (within a 6 feet distance). Person-to-person spread is when an infected person coughs or sneezes and the virus travels neatly wrapped up in saliva or mucus and lands on the person close by. This is similar to how influenza and other respiratory bugs spread. These droplets can land in the mouths or noses of people who are nearby or possibly be inhaled into the lungs. It's currently unclear if a person can get 2019-nCoV by touching a surface or object that has the virus on it and then touching their own mouth, nose, or possibly their eyes.
This is a virus which primarily affects the lungs. With most respiratory viruses, people are thought to be most contagious when they are the sickest. With 2019-nCoV, however, there have been reports of spread from an infected patient with no symptoms to a close contact.
Symptoms of 2019-nCoV infections, can range from no symptoms to people being severely ill and dying. Symptoms can include:fever, cough and shortness of breath.
The Center for Disease Control advises that :
the best way to prevent infection is to avoid being exposed to this virus. However, as a reminder, CDC always recommends everyday preventive actions to help prevent the spread of respiratory viruses, including:
Wash your hands often with soap and water for at least 20 seconds. Use an alcohol-based hand sanitizer that contains at least 60% alcohol if soap and water are not available.
Avoid touching your eyes, nose, and mouth with unwashed hands.
Avoid close contact with people who are sick.
Stay home when you are sick.
Cover your cough or sneeze with a tissue, then throw the tissue in the trash.
Clean and disinfect frequently touched objects and surfaces.
There is no pill or vaccine for the 2019-nCoV. It is important to remember that your immune system is going to be your primary line of defense if you get exposed to the virus. A strong and healthy immune system will quarantine the virus as it invades your body and should effectively destroy it. Most individuals who have done poorly with this infection were individuals with weak immune systems.
For more on how to prepare your immune system to fight for you read the prior blogs titled Fighting Back the Colds and Flu and Poisoning the Front Liner?
The best of health to you and yours
Dr Kathy
References
https://www.cdc.gov/coronavirus/2019-nCoV/hcp/clinical-criteria.html
https://www.who.int/emergencies/diseases/novel-coronavirus-2019